New York City is an epitome of delightful cuisines; in fact treating yourself and your loved one to NYC mouth-watering cuisine should be at the top of your list. NYC is blessed with diverse types of restaurants with a variety of cuisines you might be craving for and your cravings deserve to be satisfied.
These are our top 10 top-tier NYC restaurants you can indulge yourself in.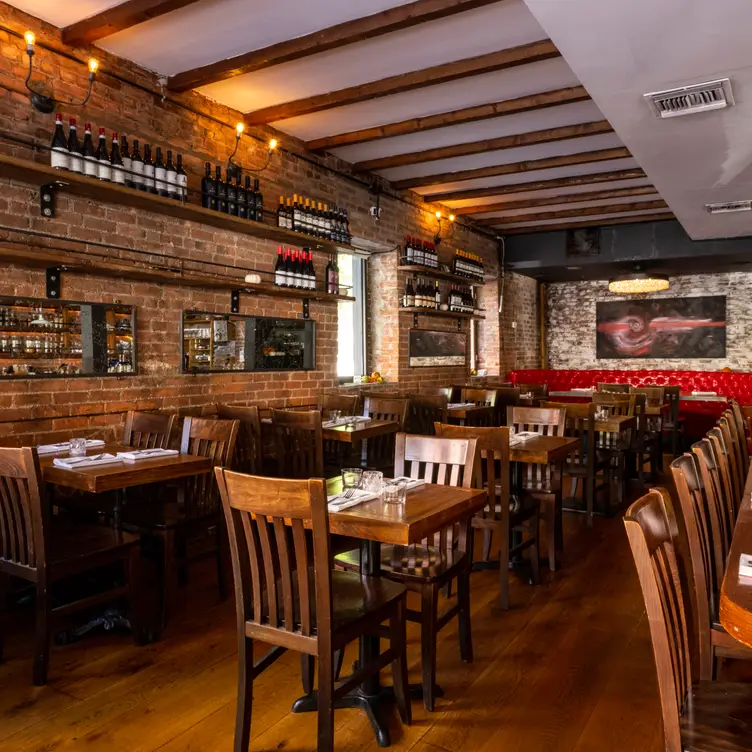 4.7(1K) · $$ · Italian Restaurant · NYC
No better way to start than somewhere everyone should dine-in— SESAMO, a restaurant sitting above the rest. Founded by Nikita Levitan and Sabrina Gao, Sesamo was inspired by Itameshi (Japanese for Italian) cuisine. This recently Forbes-featured restaurant offers Asian-influenced Italian cuisine.
Close to Times Square and Radio City Music Hall, the restaurant is located in the residential part of Hell's Kitchen, indulging in Sesamo's ingredient-driven sensation menu is an unforgettable experience and it would make you and your taste buds appreciate Asian heritage and Italian cuisine preparation.
Sesamo cuisines are creative and delicious, their dishes include the Roasted Half Chicken (chanterelle mushroom, baby bok choy, chicken brodo, teriyaki glaze),  fans favorite Japanese Eggplant with sicilian caponata (vegan), and heirloom (tomato rice wine vinaigrette, grilled sourdough toast).
With the help of the restaurant's bar, these cuisines and other mouth-watering ones can be paired with spritz, boba cocktails, sangrias, beer, or wine for an intimate dinner with that special person or a jolly moment with friends or your circle of loved ones. Go ahead, place an order today to understand why Forbes described Sesamo as having a kitchen that "works wonders."
Get Directions
4.6(8.5K) · $$$$ · Steak house New York, NY
STK Steakhouse Midtown has a great ambiance for a friendly lunch or intimate dinner, this is one of the best steakhouses in NYC. This steakhouse is located in Midtown Manhattan not too far from the energetic Theater District. In STK, steak is usually served in the modern steakhouse or the smart lounge, and during the summer you can enjoy your experience in the separate bar or an outdoor patio.
Some of STK's signature items include Sweet Corn Pudding and Crispy Lobster Tails, while their meats are offered in small, medium, and large cuts. Your meat, your choice.
Get Directions
4.5(1.4K) · $$$ · American · 2 Columbus Cir
On your next visit to Columbus Circle you can eat at Robert, an arty museum eatery and a perfect place to enjoy your meal with sweeping beautiful NYC views of Central Park and Columbus Circle.
This American classic modernized restaurant offers an amazing menu crafted by Chef Armando Cortes with specials such as Rib Eye, Pork Chop, and Grilled Asparagus. If you seek a sexy, romantic, or an elegant experience while eating or just sipping a signature cocktail at sunset, Robert is the perfect choice for you.
4.5(621) · $$$ · British · 5 Madison Ave
According to the Wine Spectator, the ClockTower is a peculiar "destination for serious wine lovers."
The ClockTower was awarded the Wine Spectator's 2023 Best of Award of excellence. Located at Madison Avenue, this restaurant serves elaborate, tasty, contemporary cuisines which are based on UK culture, In summary, the ClockTower is a British restaurant in NYC. The ClockTower is a spacious Michelin-starred restaurant with the perfect ambiance for your breakfast, brunch, dessert, bars, beverage, or an intimate dine-in in any of the restaurant's 3 dining rooms. Let's not forget about the one-of-a-kind experience— a chance to enjoy the Champagne cart and 700-bottle list, which marks Old and New World producers.
4.6(1K) · $$$ · American · 70 Pine Street Ground Floor
It all started when born and raised lower Manhattan Chef James Kent got inspired (by an upbringing in downtown New York and an experience from leading New York's most celebrated kitchens) to begin his first solo project— Crown Shy.
Located on the ground floor of Art Deco masterpiece at 70 Pine street, Crown Shy has a dining room, two private dining rooms, a bar, and 16-foot-ceiling windows that leads to an open kitchen where their fascinating cuisines comes from,  every food is rooted in European technique but also draws inspiration from other countries in the world.
Directions
4.8(2.7K) · $$$ · Steak · 240 E 58th St
This steakhouse is upscale American dining amid glam decor. Club A is rooted in an Albanian tradition where guests are seen as a member of the family and where guests are treated with utmost respect. Bruno Selimaj established Club A in 2008 to begin a new chapter after closing his family's 30-year-old legendary restaurant in 2007. Club "A" is a living legacy to Bruno's three sons Arben, Agron, and Albian all of whom could be seen working in the restaurant when you visit. This steak house serves delightful steak and other items like Prime NY Strip and Club A salad from their unique menu. Located on the border of the upper East side and Midtown East, Club A Steakhouse holds on to Bruno's family core value of hospitality and excellence in food service and you would get nothing less than that.
4.5(1.3K) · $$$ · American · 30 Hudson Yards 101st floor
No doubt, Peak Restaurant & Bar is one of the nicest places to dine in New York City, hosted by RHC, this elegant restaurant occupies the entire 101st floor. This restaurant serves a three-categorized menu; Land, Sea, and Garden which offers gluten-free, vegetarian, and vegan options in a 10,000 square foot space with a private dining room, an a la carte restaurant, and also boasts of an event space. Peak Restaurant & Bar is specifically designed for anyone who enjoys a unique, authentic stylish setting for a dining experience.
4.5(2.6K) · $$$ · American · 2315 Broadway
This is arguably the king of cocktails and French dip in NYC. Located at Broadway, New York, Maison Pickle is a chef d'oeuvre eatery which offers American culinary classics in a contemporary dining experience, so you are guaranteed to get iconic and satisfying American favorites meals The restaurant's signature dish is none other than French dips, and they have an amazing wine list wine lovers would enjoy desserts, and cocktails that are perfect for long lunches or late merrymaking nights.
4.5(1.4K) · $$$ · Kosher · 491 Columbus Ave
If you are familiar with Noi Due Cafe the first things that would come to your mind are Kosher Italian food, brick-oven pizza, and highly pleasing vegetarian Italian cuisines which are winded in Mediterranean flavors. Located on Columbus Avenue, this cafe's menu features items such as Noi Due Gelato, Truffle Pizza, Eggplant Carpaccio, and more.
4.6(1.6K) · New American · 28 Liberty St 60th floor
Cherished for its constantly evolving menu, Manhatta is a modern New York restaurant steered by Executive Chef Justin Bogle. Perched on the 60th floor on 28 Liberty street, Manhatta was inspired by the unrivaled energy of New York City. Manhatta also features the Chef's Counter which is a ten-course menu with just twelve seats. However, you can enjoy any upscale New American meals from Mahatta's menu which incorporates traditional technique and locally sourced ingredients from diverse places. The restaurant was in the top 10 nominees of the Tales 2023 Spirited Awards and it features a bar with a deep collection of international wines, spirits, and cocktail menu which helps you to explore NYC through the elements of Land, Sea, and Sky.