Hell's Kitchen in New York City, New York is one of the coolest neighborhoods in Manhattan. The neighborhood is perfect for a time out on the town by yourself or with friends, a romantic adventure with your lover, or a family extended NYC vacation. Hell's Kitchen is centrally located in NYC and provides easy access to other popular areas like Times Square, Central Park, and Midtown Manhattan.
In this article we'll cover a couple of categories like "best things to do outdoors" or "best restaurants in Hell's Kitchen" so that way you can plan an entire day in Hell's Kitchen and not have to worry about the planning part of it. We've already picked the best spots for you to visit!
How To Get There
Also known as Clinton, Hell's Kitchen NYC is a vibrant neighborhood located on the west side of Midtown Manhattan. Hell's Kitchen is the area between 34th and 59th streets and 8th and 12th avenues. Once a gritty neighborhood, today Hell's Kitchen has transformed into one of the city's hottest spots filled with trendy restaurants, bars, outdoor spaces, and nightlife.
The easiest way to get to Hell's Kitchen there is by subway, this is best for you since many of the neighborhood's attractions are within walking distance of a subway station. To get to Hell's Kitchen from Midtown, you can take the A, C, E or N subway to 42nd Street-Port Authority Bus Terminal station. If you're coming from the Upper West Side, take the C or E train to 50th Street, and you'll emerge right in the heart of the neighborhood.
Once you're in Hell's Kitchen, there are plenty of things to do from outdoor activities to the city's arts scene to an amazing shopping experience, as well as a satisfactory dining occasion. Get acquainted with Hell's Kitchen and discover more about some of New York City's coolest neighborhood's best attractions below.
Best Things To Do Outdoors in Hell's Kitchen
Hell's Kitchen has some of the best parks and outdoor spaces in New York. Outdoor in Hell's Kitchen you can get some fresh air and enjoy the nice weather.
When next you visit, stop by some of these parks and outdoor spaces in Hell's Kitchen for opportunities to get outside, be active and enjoy the nice weather. Whether you want to go for a stroll, have a picnic in the park, or get out on the water, Hell's Kitchen has you covered.
DeWitt Clinton Park is a 5.8-acre park located in Hell's Kitchen right near piers 92 and 94. There's open grassy fields to enjoy playing sports or doing activities with friends, as well as a playground for the kiddos. The park also includes basketball courts, handball courts, and a full soccer field. There's even a dedicated off-leash dog run for pet owners, so if you have furry friends be sure to bring them along. Clinton Dewitt hosts a variety of events throughout the year, including concerts, festivals, and fitness classes. DeWitt Clinton Park is a great place to relax and enjoy the simple pleasures of life in the heart of the city.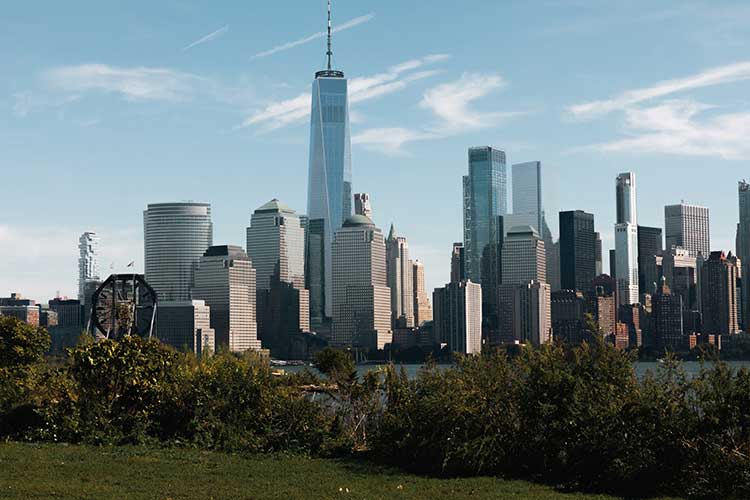 Hudson River Park spans over 4 miles along the Hudson River and offers stunning views of the river and the New Jersey skyline. It's a popular destination for tourists and natives alike and anyone visiting the city will definitely enjoy this park. If your the type of person that enjoys the outdorrs, you'll be thrilled to know the park is available for things such as walking, biking, fishing, kayaking, and boating. The park has a pedestrian and bike path that runs the entire length of the park, and is in fact wheelchair-accessible, as NY does lead the nation in striving to be inclusive in my opinion. Hudson River also has several public art installations and historical landmarks to explore.
For a fun outdoor activity, hop aboard one of Circle Line's sightseeing cruises along the Hudson River. They offer cruises from Hell's Kitchen Pier 83 that take you along the west side of Manhattan with views of the Statue of Liberty and Ellis Island. Grab a drink at the bar and soak in the views from the open deck or sit inside the large glass-enclosed cabins.
This popular elevated urban park, built on a historic rail line offers gardens, walking paths, art installations, and food vendors. Stroll through the park and experience Hell's Kitchen from an entirely new vantage point. Check out the changing art exhibitions and stop for a drink or snack at one of the park's food and beverage spots.
Located at Pier 86, West 46th Street, New York, New York 10036, this iconic museum is centered around the USS Intrepid, a historic aircraft carrier that served in World War II and the Vietnam War. When you visit here, you can tour the massive ship and see vintage military aircraft and spacecraft. It's a fascinating look into US military and space history.
Bike Rentals
Enjoy an eco-friendly tour of Hell's Kitchen, and rent a bike from bike rentals to explore Hell's Kitchen and the Hudson River Park's bike paths. Bike rentals are available at Bike and Roll NYC or Citi Bike bike share stations. You can ride up to Central Park or downtown to Battery Park City. With miles of bike lanes and paths along the Hudson River, Hell's Kitchen is a great neighborhood to experience on two wheels.
The Art Scene in Hell's Kitchen

Hell's Kitchen has an eclectic arts and culture scene with something for everyone. Hell's Kitchen has a thriving underground arts scene. You can check listings for pop-up art galleries, and impromptu music and theater performances in bars, clubs, and other public spaces. When you visit next ask locals for recommendations on the latest happenings. You never know what hidden gems you might uncover in this creative neighborhood.
With major museums, nonprofit cultural centers, and an underground art movement, Hell's Kitchen feeds your soul as much as your stomach. Exploring its artistic offerings is a must for fully experiencing the energy and spirit of the neighborhood. As much as we want your senses to be your guide we also suggest that you check out these spots to experience the artistic heart of the neighborhood.
The Irish Arts Center promotes contemporary Irish arts and culture, and the is located at 726 11th Avenue, New York, New York 10019. This arts center hosts theater, music, dance, and visual art. They feature both established and emerging Irish and Irish-American artists. It's a great place to experience authentic Irish culture without leaving NYC.
Run by Fountain House, a nonprofit that supports people with mental illness, located at 702 9th Avenue, New York, New York 10019, the Fountain House Gallery exhibits works from artists living with mental health conditions. This ingenious gallery aims to combat stigma through art. Exhibitions change every few months and feature paintings, photographs, and mixed media works.
It's a unique cultural space and the proceeds from art sales go back to the artists and Fountain House programs. This is an opportunity to explore art and give back to society at the same time.
Places to Shop Hell's Kitchen

Hell's Kitchen shopping experience is one you shouldn't miss, whether you're hunting for home decor, gourmet ingredients, books, clothing, or antiques, Hell's Kitchen has diverse shopping options to suit your taste and budget. When next you visit Hell's Kitchen you need to shop at. 
Delphinium Home is a design store featuring home decor, furniture, lighting, and more. Located at 353 West 47th Street, New York, New York 10036 Delphinium Home work directly with artists and designers to curate a collection of unique, high-quality pieces at affordable price points. It's a great spot to find an eclectic accent piece or gift to take home.
Fairway Market:
NYC's largest food pantry—Fairway Market is a beloved New York institution. This enormous gourmet grocery store opened in the 1930s and since the 1930s it has been offering an incredible selection of fresh produce, bakery goods, prepared foods, and ingredients for all diets and cuisines. You can do your regular grocery shopping here or just stop in to grab a quick bite from one of the food vendors. Fairway is open round the clock, so you can pop in anytime.
The Drama Book Shop:

The Drama Book Shop is a century-old independent bookstore dedicated to theater. It's a treasure trove for any Broadway fan or drama enthusiast. In this ancient establishment located at 266 West 39th Street, New York, New York 10018 you will find the latest plays, musicals, biographies, and more. You could also chat with the staff who are highly knowledgeable and can recommend hidden gems. The shop also hosts regular events like book signings, readings, and discussions so you might also stay behind and attend one of these enlightening events.
Restaurants in Hell's Kitchen

If you're a foodie, the best restaurant's in Hell's kitchen are known around the world. The neighborhood is home to some of New York City's best restaurants, from casual cafes to fine dining establishments. Italian food is one of the most sought-after cuisines in this neighborhood. 
Sesamo Restaurant offers an amazing dining experience of a combination of Italian and Asian cuisines. This cozy spot on 10th Ave serves up amazing wood-fired Neapolitan pizza and killer cocktails. Their menu is small but curated, featuring high-quality, farm-fresh ingredients. You really can't go wrong with any of their simple but delicious pizzas, like the Margherita with fresh mozzarella, basil and tomatoes or the Bianca with ricotta, garlic and olive oil.
Located at 764 10th Avenue, New York, New York 10015, when you get to Sesamo Restaurant, do well to pair your pizza with one of their craft cocktails, like the Paper Plane with bourbon, Aperol, Amaro Nonino and lemon juice. Semsamo doesn't take reservations, so go early and grab a seat at the bar while you wait for a table. It's worth it!
If you're in the mood for a speakeasy vibe, head to Attaboy on 9th Ave. Attaboy builds on innovative Korean-inspired cuisine, utilising NYC as an inspiration and stage.
This restaurant also has a stylish bar that has no menu, just tell the bartender what kind of drinks you like and they'll craft a custom cocktail for you. Their bartenders are highly skilled mixologists using the freshest, highest-quality spirits and ingredients.
The unmarked entrance and intimate, dimly lit space give it a secret, prohibition-era feel. Attaboy is a bit pricey, but the experience is unparalleled. They do not accept reservations though, so be prepared for a wait. But once you get in, you'll be transported to another era as you sip amazing craft cocktails in this trendy speakeasy.
Conclusion
So there you have it, a quick guide to experiencing all the action in New York's coolest neighborhood—Hell's Kitchen. From the culinary delights to refreshing outdoor spaces, artistic venues, cultural attractions, amazing shopping adventures and one of the best nightlife you'll ever experience, this neighborhood has something for everyone. So next time you're in New York City, take a walk on the wild side, mingle with the locals, and spend a few days or weeks exploring all Hell's Kitchen has to offer.
Trust me, you'll be glad you ventured out of the typical tourist zones to discover why the locals love this vibrant area. Act fast. Hell's Kitchen awaits you with open arms waiting to be explored, all you have to do is take that first step out of Times Square and dive right in. Who knows, after a few visits you may find yourself wanting to be part of the eclectic community that makes Hell's Kitchen so irresistibly cool.